---
shuffle down the stairs to my 15' x 25' workshop and simply stand there for a few minutes with my hands on my tools. To be sure, I thought I was a touch nuts. This book, "The Anarchist's Tool Chest," paints a world where woodworking tools are at the center of an This book is also available as a pdf that is DRM-free. The Anarchist's Tool Chest pdf by Christopher Schwarz Download. Pages. ISBN: Download: • The Anarchist's Tool osakeya.info
| | |
| --- | --- |
| Author: | RUTHIE CANSINO |
| Language: | English, Spanish, French |
| Country: | Niger |
| Genre: | Religion |
| Pages: | 262 |
| Published (Last): | 21.12.2015 |
| ISBN: | 802-3-78342-673-2 |
| Distribution: | Free* [*Registration Required] |
| Uploaded by: | HEATH |
---
55549 downloads
140394 Views
35.86MB PDF Size
Report
---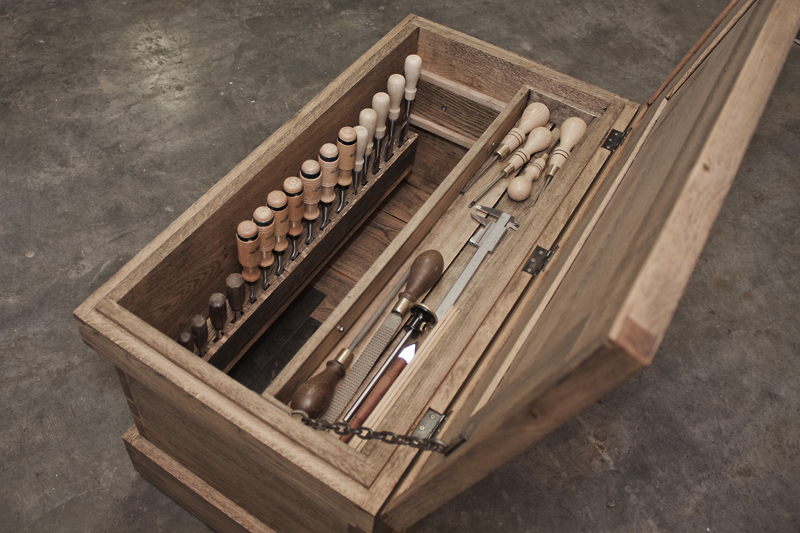 We're very grateful to Christopher Schwarz for permission to use his lists of tools from "The. Anarchist's Tool Chest". Essential Hand Tools. We've taken Chris's. The Anarchist's Tool Chest book. Read 40 reviews from the world's largest community for readers. The Anarchist's Tool Chest from Lee Valley Tools. Lee Valley offers high-quality woodworking tools (woodturning, wood finishing, sharpening, woodcarving).
Use one of the services below to sign in to PBS:. You've just tried to add this video to your Watchlist so you can watch it later. But first, we need you to sign in to PBS using one of the services below. You've just tried to select this program as one of your favorites. You'll be able to manage videos in your Watchlist, keep track of your favorite shows, watch PBS in high definition, and much more! Create one now Create a PBS account. By creating an account, you acknowledge that PBS may share your information with our member stations and our respective service providers, and that you have read and understand the Privacy Policy and Terms of Use.
I did greatly enjoy this book — and I am selling some of my prized but unused possessions in order to make this my way of life. I agree fully with his philosophies on downloading used or heirloom quality, but I do think he is taking for granted that his readers are all wealthy retirees or also editors at woodworking magazines where there is a full shop available and testing samples being thrown at them daily.
July 5, at am Hey rob, Are you referring to the price of my toolkit, or the price of a generic toolkit as described in the book? My kit is a little odd, as a fair portion of it came as gifts. I could go through a total everything up though and come to a total.
For the generic kit, the price would vary wildly. Just to take one example, you can get a Jack plane a variety of ways.
Building a chest, for some, is nothing more than enjoying your hobby. I know guys who just enjoy building a shop full of tools and supplies as a hobby. Rarely a project ever comes out the door. As long as you enjoy it and is a way for you to escape the every day, then it is very practical.
Maybe not for the shop but for ones self pride. Andy Margeson , AM I built mine prior to publication of the book and it is not very similar to his; in fact, I think he would disapprove of mine. There are different reasons for building a chest.
The way my shop is arranged I don't have wall space that is convenient to my bench, which is under a window and next to a door, with a garage door occupying the adjacent side of the garage. I got tired of the back and forth. Now that I have it, I really enjoy working from it.
My tools don't knock together in the chest at all. In fact, they knock together less, because I put them away more often, rather than leaving them on the bench.
If I wanted to, I could load my toolbox into my pickup alone in ten minutes: remove the tills, lift the planes out of the bottom, put the chest in the truck and replace the contents. As for where I am taking them, to my bench and back.
osakeya.info The Anarchist's Tool Chest, Christopher Schwarz : Hand Tools - osakeya.info
Same as I did when I had wall cabinets. Probably best not to generalize about woodworkers who prefer wall cabinets or who prefer chests. Both options have advantages and disadvantages and woodworkers have different preferences. Bruno Frontera dela Cruz , AM I am a hybrid woodworker hand and power tools in a non climate controlled garage.
This chest fits perfectly under my out feed table, so no wasted floor space and with vapor emitting corrosion inhibitors and a goldenrod dehumidifier it is my only means of rust control for my hand tools plus oil of course.
It also holds ALL of my hand tools so they are now in one place and the days of fumbling throug router bits and jig saw blades to find my marking gauge are over and my shop organization is much improved.
As I'm nearing the end of the book I thought about the practicalness of the chest it self. Sure if one is traveling it might be a good "travel case" for your tools. But doesn't the weight of the thing require at least two people to heft it into a vehicle?
The Anarchist's Tool Chest
I sure it is a wonderful exercise but how practical is it to have in your shop? I ask because many seem to be building one not necessarily Chris's so how useful is it? In what ways do you find it better than a cabinet or tool rack? Eric Brown , AM One reason to build the chest is that its painted. That makes it an excellent project for those just getting into hand tool work. Its very good at teaching the basics needed that leads to other carcass work. The paint covers up the mistakes.
It's a great first large project. If you then follow Chris's thoughts on the tool selection, you end up spending more time working wood and less on tool collecting.
To someone starting out, its a good way to go. Then as experience and needs dictate, other methods will be much better realized. If someone starting out built the largest tool storage solution, they would not get to the fun part of working wood that will develop their skills near as fast. Food for thought. Eric Peter Pedisich , AM A few observations and personal opinions about tool chests and the recent fad of building them: -How many of you would have built a tool chest if Chris Schwarz whom I greatly admire for inspiring many to use hand tools had not touted them in his book?
I originally wanted one like Roy Underhill's. Mine is heavy, I can only move it empty, which I must do at the beginning and end of each winter, from basement to garage.
From basement to garage Better than a lot of folks I see walking around nowadays! When I have dedicated shop, I plan to build a wall arrangement, with the chest as auxilliary storage, until then I find it is many times better than what I had before, which was nothing, and it does offer much protection for my tools.
In fact, I really don't like that all traditional chests are now referred to as "anarchists tool chests" by Schwarz's readers. It drives me nuts, to be perfectly honest. Like you said, they are far from a new idea.
Some tool chests are also useless, depending on how they are made and the storage options they have. Mine are not useless. Not all of them were intended to be moved from job site to job site. For a joiner, they were, but they had smaller chests and a smaller kit. Cabinetmakers had to have a larger selection of tools and were more likely to work in one set place, hence a larger chest. I have my chests one large chest full of bench planes, chisels and saws, one smaller with molding planes and gouges on moving dolly carts, to help me slide it around my shop.
I'm not an itinerant woodworker. When I do need to take tools to another site, I use a smaller, more portable box. I'm not likely to need all of my tools at any one job site. Plus, I have way more tools than I need, or than an 18th century joiner had. I don't have many Lie-Nielsens, but if I did, I wouldn't treat them specially. They are just mass-produced, readily available tools.
Nice ones, sure, but readily available. In fact, I value my 18th century planes and even my 19th century planes far, far, far more than my few LNs. I can easily download a new LN plane or saw They live in my tool chest and I dote on them, just like all of my other wooden planes. If there was any chance of damage, I wouldn't use the chest for them. Those loose, flowing shirts look pretty darn comfy though On the flip side, people who use wall hung boxes should wear a waistcoat and a tie.
The fact is, if you don't want to use a chest, you don't have to. But until you've worked out of one, it is just silly to dismiss their use as a "fad" spawned by a currently-popular writer. A properly built tool chest is a powerful storage tool. The fact that they are the proper storage option for the joiners and cabinetmakers of the time period I choose to study is also a factor in my decision. I've worked out of just about every storage system there is, and the chests work for me.
As with many things,there may not have to be a logical or practical reason to make something. I'm totally stealing that line, George.
And,build your chest however it excites you. I have never been very practical,to say the least. I just get the job done somehow!! Jessica Pierce-LaRose , AM I've been thinking of building a tool chest for a while now - simply because while I don't have much space in my shop, the footprint of a chest will take a little space, but hold more tools than I can fit in the available wall space, and I locate it more comfortably to my bench. I'm glad I'm not the only one annoyed by this. It's not the form itself!
Yes, a toolchest would be much easier to move than maybe a wall cabinet if you needed to and had the manpower, but the large sized ones weren't made to be moved. I don't know where this misunderstanding came from. Again, I don't understand where this perception comes from - it must be related to the perception that these large chest are made for traveling, or people who roll their chests over really bumpy floors?
Saws sit in their nice little spots. Molding planes have their pocket in the back.
Large planes don't really move too much on their own. Some chests have nice dividers, or little holes to keep the edge tools from banging around, otherwise you use tool rolls or whatever. I've tried working like that - I get too stinky.
The Anarchist's Tool Chest
I think shop storage is one of those personal things that is both related to how you work and the layout of your shop. I think there's a tendency, with the internet, to just sort of figure everything is new if we haven't seen it written about recently. The thing is, there's so much more woodworking getting done around the world by folks that we don't know about because they aren't writers, or they aren't sharing their work on message boards or whatever.
I mean, I'm sure that a lot more toolchests have been getting built lately than maybe in the past, because the builders where inspired by Chris's writings. I mean, there's enough toolchests in Tolpin's book which has a couple of really cool variations on the traditional chest, by the way to suggest that the form didn't die out with the advent of the wall-hung tool cabinet The bending over thing gets commented on a lot - I know it seems odd, but if you build a large chest, the bending is a lot easier than it would seem - you put a hand on the rim of the chest, and support most of your weight with that - I don't know quite how to explain it, but it makes things a lot easier than say, getting something out of the bottom drawer in the kitchen cupboards without squatting.
It's when you build a small chest that you need to worry about bending or getting the chest up on something. One feature I really like that I've seen in some chests, are tills either in addition to or in replacement of the normal sliding tills with small handles - so they become lift out trays to bring all of one set of tools to the workbench at once.
Adam Blanton , AM A few observations and personal opinions about tool chests and the recent fad of building them I do this all the time with my chisel tray and my gouge tray. Works great, they all stay together and I have them all at hand when I need them.
I've noticed that most tills hang from the left and right sides. I am thinking of hanging my tills from the front and back so that when I take a till to the bench it will be smaller.
Also since I think my chest is going to be 43" to 45" I would have two tills on each level, about 11" wide each. This way my dovetail chisels will be in one till and regular bench chisels in another, etc. I am just getting into wooden moulders and am going to use my grandad's smaller chest to house those. I am putting some good sized casters on the bottom and four Brusso stop hinges on the top so I don't have to use a chain to hold the top open. I am hanging two handles on each end, which seems more practicable to me.
I know, it will be heavy, but if I move it, I plan to roll it into what ever is the transport vehicle. Graham Hughes CA , PM I have three, and don't really have the floor space for all of them, but I'm not willing to live without them.
My shop is a one car garage, and I have only the bandsaw for stationary power tools; I could see things being different if I had to fit a table saw inside, too, but I don't actually want or need one. I have also worked out of wall cabinets, wall hung tools, and a machinist's toolchest. The traditional designs are better suited to woodworking, more robust, very easy to work out of, and customizable; I have retrofitted two of mine with fitted chisel racks and am delighted by it.
I never move two of the chests and the third smaller one only very occasionally; they're not about moving stuff from place to place. I have found that I dislike intensely the "internal till" style of wooden chest, preferring open trays, but that's the biggest limitation I've found for wooden chests.
To dismiss the alternatives I've tried; the big problem with wall hung tools is that they're inefficient on space and so you have to walk all over creation to get the thing you want.
He tends to use LN as his major supplier, so it is easy to look up the costs of these tools. Nothing as artisinal as a dovetailed toolchest, but you can make shop furniture, simple outdoor chairs and tables, birdhouses, etc on day one with nothing more than a screwgun.
My complaint is not with the nature of economics or the fact that woodworking is an extremely expensive craft; it is that this fact is constantly swept under the rug.
Perhaps this varies regionally — perhaps in his area of Kentucky old tools are overflowing from every attic. Out here in the west, though, they are either sternly hoarded, rusted, or both. It is nigh-impossible to folding rules, hand drills, and the like for prices less than ridiculous.
Again I am not opposed to these costs and whining about them will not change reality.